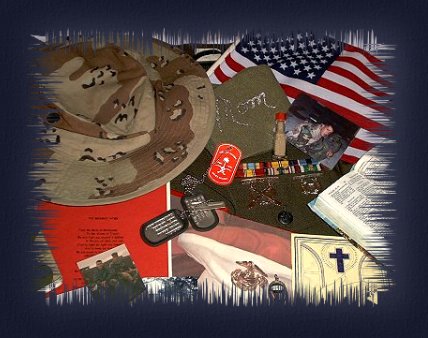 Remember

It's the soldier not the reporter who gives
you the freedom of the press.
It's the soldier not the poet who
gives you the freedom of speech.
It's the soldier not the campus organizer
who allows you to demonstrate.
It's the soldier who salutes the flag,
serves the flag, whose coffin
is draped with the flag that allows
the protester to burn the flag!!!

"Lord, hold our troops in your loving hands.
Protect them as they
protect us. Bless them and their families
for the selfless acts they
perform for us in our time of need.
Amen."


This set is dedicated to honoring our men and 
women who put their lives on the line to keep 
our country and our freedoms safe.

As our country faces almost certain war, our
sons, daughters, husbands, wives, mothers,
fathers, brothers, sisters, aunts, uncles, 
and friends will step forward and do their duty
to protect and serve our God and our Country.
They have not received the level of support and
honor they deserve so I dedicate this set to
their honor and support and add my prayers
for their safety and protection as they serve in
these perilous times.  

I Salute You!!!!
As the United Kingdom ~America ~ Australia
and other nations, join together to bring PEACE to
IRAQ
1am - 20th March 2003 - UK Time Zone



Many of the poems you will find here have
been written by my friends from Poets Nest,
for which I thank them from the bottom of my
heart for allowing their use on the Reflections
site. Thank You all............Gwen (Wales, UK)
Poets Nest Subscribe



A Childs Prayer For Peace
A Dream Of Peace
A Flash Page of Soldiers Prayers
A Great Battle Calls
A Hero Is Never Alone
A Little Boy's Question
A LITTLE HISTORY - ASSYRIAN CHRISTIANS
A Nation At War
A Plane Ride With Army PFC Howard Johnson, Jr..
A Soldier Died Today
A Soldiers Heart a friends page with a wonderful message
A Tribute To The UK Francine's Page in honour of the UK servicermen
A Tribute To Lori Piestewa
After The War
Always In The Heart
Angel Of The Desert
An Angel Watched Over ~ Sergeant First Class Keith Dowd
An Earnest Prayer


Daddy's Gone
Dear God
Dearest Heavenly Father
Dedicated To The Victims Of War
Dragons In The Sand

Easter Sunday 2003
Easter 2003 - A Soldier's Faith

For All Who Have Shed Their Petals
For My Son - Bradley Robb, PFC, U.S. Army, Baghdad, Iraq
From A Senator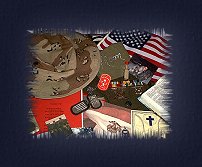 God Always Knows Best
Grave Of Ancestor From 1916 Iraq Campaign Found Wrecked
Grieving Town Salutes Llywelyn
I AM
I AM COMING
If I Died Before You Wake A Wonderful Page and Song - had me in tears
If I Knew
In Memoriam My friend Francine's Tribute - Beautiful
In Rememberance - Names will be added as they are recieved (UK)
In Rememberance - Names will be added as they are recieved (USA)
Iraq Crisis Prayer For Our Troops


Job Well Done
Kissed My Son Goodbye TodayA Very Special Song Here and Video

Lean On Me
Letter From A Soldier
Let Us Not Forget
Let Us Pray
Light A Peace Candle
Lynn's Inspiring Links - Soldiers Baptized
May War Become Abolished
Message To Iraq Demonstrators and A Prayer
My Prayer
My Prayer For Peace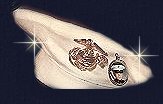 One Last Hug
Our Business Now Is North
Our Nations Prayer - Judy's Realm
Our Prayers For The Soldiers
Our Prsedient Prays By PJDesigns
Peace
Peace Is Like A Rainbow
Peace Valley Support Page ~ A Support Page
Please Bring My Daddy Safely Home
Pray Before It Starts
Pray For Our Soldiers
Prayer For Peace
Preparing For Battle - Prayer
Psalms 46: 1 - 10
Psalm 144
Add A Name to "Put A Name On A Prayer" Put A Name On A Prayer
Will Be Kept Updated Put A Name On A Prayer Names



Shadows Stand Tall A Poem from Francine's lovely site
Showtime
Soldier's Prayer For His Family

Target Stores and Vietnam Veterans
Teardrops In Heaven
The Average Age Of A Military Man
The Final Journey
The Silence Of War
The War Explained To A Nine Year Old Son wow..this is poweful
The Weaver's Charge
The World's Crying
Time To Say We're Sorry
Troops Ask For Bibles



United In Prayer
United We Stand
United We Stand - Sky's Page and Site link
United We Stand, Divided We Fall
United In Prayer - Brattyamanada

Walking In God's Armour
War Has Begun - Let Us Pray
What May Tomorrow Bring
Where's Daddy - A Tribute to U.S. Marine 1st Lt. Frederick E. Pokorney Jr
Why Be Cruel To A Child
Wish Of An Iraq Child